Student Transportation Information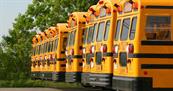 We have a DCISM staff member at the Montbello campus bus stop for the morning and afternoon buses. If you have any concerns about the Success Express please let us know at 720 423 5900 as well as contacting the DPS Success Express number below.
Success Express Bus Schedules 2013-14
For more information see the DPS transportation website here or contact 720-423-4699.
More Stories From DCIS Montbello